Originally posted for another blog in December of 2019. Copied here to preserve the work.
Along with the preparation of Thanksgiving nibbles, last minute business, unexpected visitors, I read today where Dep had major power outage. In the background, we see "bomb cyclones", two of them, working their way across the states. Hope you guys are okay, safe and sound, with family.
But it reminded me of all the travel escapades around the holidays. Years later, we look back and laugh, although at the time, we were in what seemed like dire circumstances. Eventually, we muddled through, and arrived at our destinations…. with a great story to share.
The very first travel nightmare I recall was picking up Dad at O'Hare Airport. Mom was "world's worst driver". O'Hare was under construction, as it always is. The snow was stacked and brown-gray making everything monotone, except Mom's turquoise blue Comet.
I remember counting, waving to my Dad 8 times, as we rounded the circle again, and again, because Mom was too skittish to change lanes in the snow. It was my first hint of problems traveling in winter weather.
The long car rides and airport delays were another issue entirely, as we became adults. Rushing to visit with extended family, presents and/or food in the car, adds tension. These are the best stories. Please feel free to add stories of YOUR family adventures.
The best story I have about holiday travel was over Christmas, and thus I will schedule this story to publish on Christmas Eve. We were leaving Logan Airport in Boston, returning to Memphis Airport on Christmas Eve. Gunner was 7yrs old.
Here we go, and a Very Merry Christmas to you all:
Big T and I were dating, still in the midst of prolonged divorces, fighting with our exes, but we were happy. Gunner and I were in Boston from Dec 17th -24th. We had Christmas with the girls, hosted and attended several parties, night at Boston Ballet, everything was terrific. I was mandated to return Gunner to his Dad, late on Christmas Eve, as all the out of town cousins n Dad's side were in Mississippi and waiting on him for their festivities. Sounded like a good plan. We had it worked out well in advance.
We booked the 2:30pm flight out of Boston, a flight we had taken dozens of times before, direct, no problem with chance of delay on a layover. Our plan was to drop off Gunner when we returned and attend a Christmas Eve HUGE gourmet dinner at a girlfriend's house. Big T bought a 6lb live lobster, and pounds of white asparagus for the occasion. We were bringing the "surf" for the "surf and turf dinner". I had a clothing bag with Big T's tuxedo and my gown. We were perfectly organized…. when everything went downhill.
To close up the little house in Boston was a bit of a process. We cleaned out the fridge, washed all linen, moved some furniture, as we would not be back for months. Goodbyes to all the neighbors and we left for the airport.
Along the way, we realized Gunner would come home on Christmas Day and we had no "Santa" presents for him at the Mississippi house, only presents wrapped from family. We made a last minute stop at Toys R Us, and somehow distracted Gunner to buy a few items, and munchies for his stocking.
At the airport, we breezed through checkin and settled into the boarding area. There was a 30 minute delay, but we boarded the small plane, ready to taxi out. We were sitting in our seats when the announcement came.
The problems started. Our flight crew came in from Indianapolis and exceeded legally allotted flying hours, so they could not take us to Memphis without permission from corporate. We had to disembark the plane, with no luggage. Northwest assured us another flight crew was coming, small delay, same plane. An hour passed, no flight crew. Gate agent was frustrated and claimed "no one is answering at 'home office' because it is Christmas". Well, about 40 people whipped out their cell phones at the same time. We would be happy to call the President of NW Airlines on Christmas Eve.
Eventually the flight was cancelled, but there was ONE MORE flight out. We all raced back to the main gate agents to scrounge for seats.
…..Which meant I had to call my ex-husband and explain why Gunner would not be there at the appointed time, for Christmas Eve dinner. I dreaded the phone call. He was a jerk, of course, and blamed me, taking the opportunity to be truly despicable. I listened to him drone for a while, then snapped, and reminded him that if he had not come home with a sexually transmitted disease, I "probably wouldn't be in effing Boston this Christmas"…. furthering challenging him to explain THAT ONE to his cousins. Dead silence.
Girlfriend who was hosting the elaborate dinner was gracious and understood completely.
With Big T still back at the plane trying to retrieve our luggage and Gunner the 7yr old running through the concourse like a wild kid, I approached the ticket counter to try to book seats on the remaining flight. It was bedlam at the counter.
The ticket agent was at her wits end, but I was ready to shoot the messenger. Tension at an all time high, and I did not handle it well. She shot her mouth off and me and my eyes narrowed. I was so close….. A manager finally stepped in. All he could offer me was a flight the next day…… and an overnight room at the Airport Hilton…….. on Christmas Eve……… with a 7yr old…… waking up to Santa Claus on Christmas morning……. at an Airport Hilton.
I damn near fainted….. and started to cry…. and I hardly ever cry, but I was overwhelmed with the sheer volume, the confab of events, beyond my control.
Through my teeth, sneering at the manager, "Santa Claus doesn't come to an Airport Hilton!"
About that time, Big T rounded the corner with a cart piled high with 7 suitcases. He needed 12 arms to keep it all together as he was moving fast and swinging wide. Be damned if that perishable box wasn't perched on top for the Lobster. It was funny. He looked funny….., and changed my mood entirely. Big T does that for me, centers me, one of the reasons I love him so much.
The emotions of my fellow travelers in line were swinging like a wrecking ball on a crane. Compared to those around me, I was the calm one. In a flash, I accepted the situation and was already thinking about what to do next. How were we going to salvage Christmas? We needed a miracle.
Gunner joined Big T and helped with suitcases. Big T was concerned because he thought I was crying…. He was still breathless and stressed, but I had already moved on to the next step. I leaned in and whispered, "I'm working it. I want more credit." He took a few steps back and looked at me, perplexed. I think he was almost scared of "manipulative" me at that point. But I had the manager, dead to rights, and I wanted blood…. in the form of free tickets.
An overnight airport hotel would never work for my 7yr old expecting Santa. "Over my dead body!", I said at one point. We agreed to go back to the Boston house. Northwest called us a cab, paid for, but the luggage would not fit. We waited for a BUS to take us home…… to our closed up house.
Driving through the empty streets of Boston that Christmas Eve was surreal. By 8:30-9:00pm, everything was closed. We rode in silence for a long time, Christmas lights blinking in the windows and the occasional "whoosh" of tires hitting melted snow. It was cold and the windows were fogged up.
Finally, Gunner chimed in and said, "Hey mom, how will Santa know where I am? Won't he expect me to be in Mississippi tomorrow morning?" Sheer terror went through me, from zero to 120mph. I only had 3-4 presents for him from Toys R Us, and chances were, he saw them. I couldn't kill Santa Claus! Plus, we had no food in the fridge, I even gave away the eggs, the opened wine, liquor, everything.
Big T had a moment of divine inspiration. He turned to me and said, "You'll have to call 1-800-Santa and reroute your presents." I nodded, catching the drift of what he said. I pretended to call Santa's workshop, "pressing "1" for English". Gunner was fascinated but satisfied. He settled back into his bus bench, drifting off to sleep for the remainder of the ride. The back and forth of the windshield wipers were like a lullaby.
I called a girlfriend, to borrow liquor, and whine to her about my troubles. We stopped at an all-night doughnut shop so at least we had doughnuts for Christmas morning…. with our 6lb lobster. What the heck were we going to do with a 6lb lobster?
We arrived home, to our cold house, and Big T gingerly put Gunner to bed. The babe was exhausted. For some unknown reason, the Christmas tree was still up, and fully decorated. Good thing…. I plugged in the lights, praying for inspiration from Mrs. Claus.
And then, something magical happened.
We were standing at the kitchen peninsula, looking at each other, trying to figure out how badly we were screwed. Two girlfriends from down the street arrived in full Santa costume, with a LOT of liquor. They had been partying and wanted to share. Word of our troubles, a la George Bailey in It's a Wonderful Life, had spread through the neighborhood.
And they started coming, and they kept coming. By midnight, there were at least 30 people in the house. We cooked and ate the lobster, others brought extra food. Some, brought presents from under their kids trees, so Gunner would have presents from Santa……..
Wow. I've never been more grateful and humbled.
Best Christmas Eve, ever…….
The party didn't break up until almost 3:00am. The guys took over a portion of the enclosed porch and assembled cart tracks, electric scooters, a grill, etc., smoked cigars and drank odd brandy until late into the night.
Christmas morning, Gunner beat me downstairs by two steps. He ripped into his packages, and Big T and I were just as surprised at what he received. Gunner loudly proclaimed, "It's everything I ever wanted." … like we planned it that way.
Neighbors dropped in with more food and gifts. It was a perfect clear blue sky morning in Boston. The kind of day which makes you squint your eyes but also makes your nose run. Another friend invited us to their Christmas luncheon as our flight would not leave until 2:30pm. After luncheon, we closed up the house again.
Big T and I were standing in the kitchen, Gunner in the bus with suitcases all ready to go. We were surveying the house to make sure everything was good, one last check. And as if God was watching and needed an exclamation point….. the Christmas tree fell over. It was eerie and it fell in slow motion. We looked at each other but didn't speak. No time to clean it up. We closed the door and headed to the airport.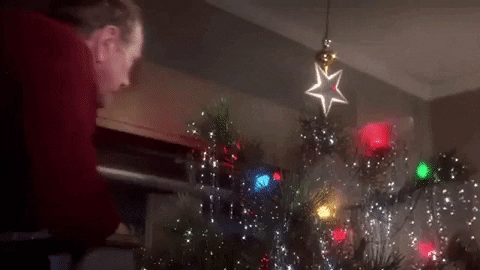 Flight went without incident until we got to Memphis.
There was an ice storm in Memphis and that airport is a huge hub. Suitcases were stacked all over the airport, and we could barely get out of the boarding area. To this day, I've never seen anything like the towers of suitcases which were everywhere. Temps had not risen and the ice was still on the ground. We had a heck of a time getting home, skidding on bridges. I later learned my in-laws totaled their car the night before, on the same bridge.
That was the year of endless Christmas for Gunner. He had Christmas with the girls, Christmas morning in Boston, Christmas with Dad's side, and Christmas at our house.
I have no idea what I received that year, and Big T wouldn't remember either, ……… but I'll never forget my neighbors who were so kind when we were in need. They really came through when it mattered. I'll carry that memory to my grave.
So, if you find yourself in a strange travel situation this year, take a breath, be kind. We barely remember the presents we receive, yet we do remember the actions of others.
Our well laid plans may go awry. When faced with no alternative, embrace the bedlam. Sometimes, not being in control allows better things to happen.
Merry Christmas, Treepers!